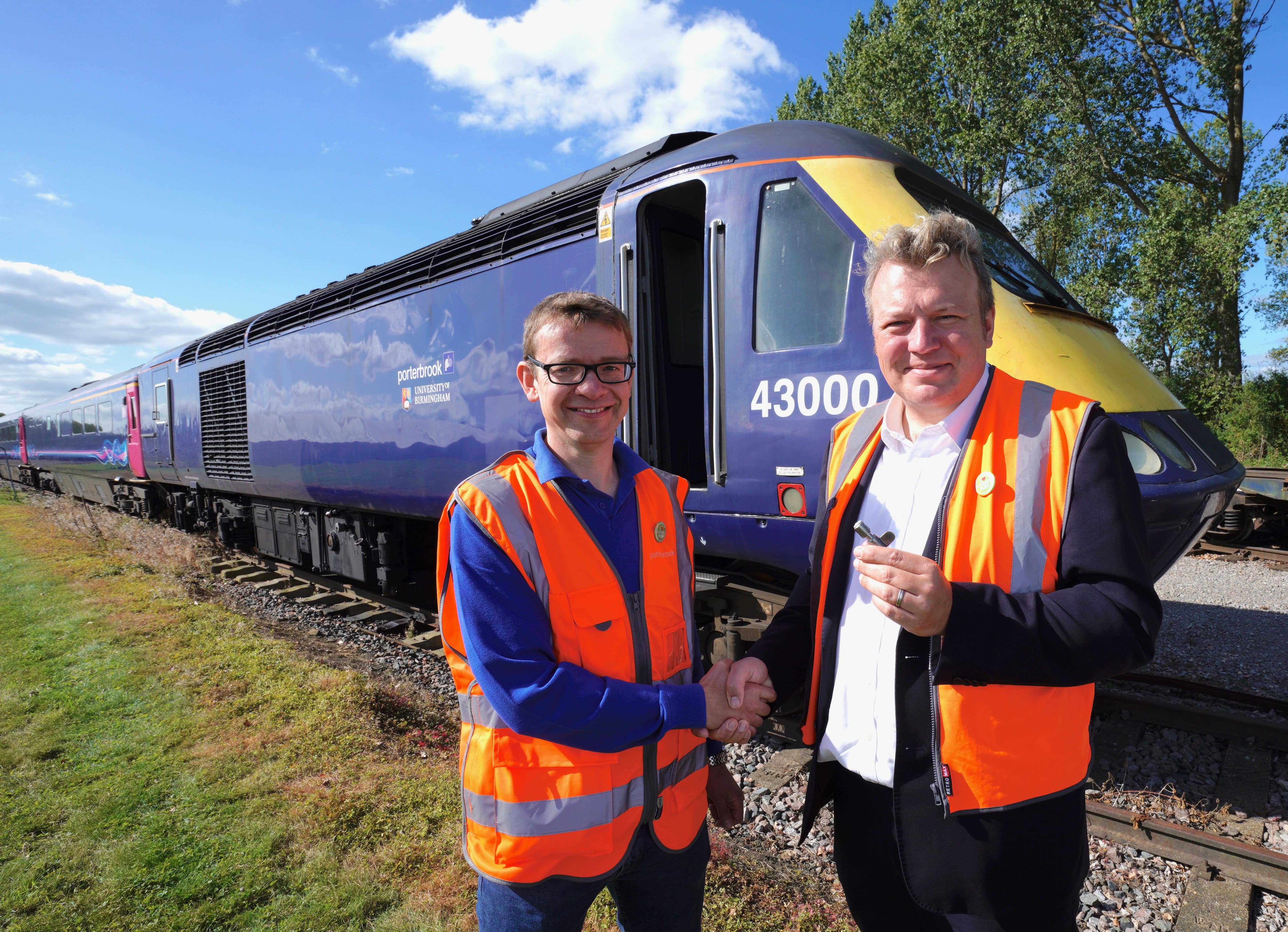 Rolling stock asset management company, Porterbrook, has leased one of its iconic High-Speed Trains (HST) to the University of Birmingham.
The HSTs revitalised InterCity rail travel in Britain from their introduction in the late 1970s and are held in huge affection by travellers and enthusiasts alike. The HST will enable the University of Birmingham to test and develop a range of digital and decarbonisation innovations on a highly flexible rolling stock platform.
Porterbrook's decision to lease the train to the University of Birmingham is part of the company's continued commitment to the UK Rail Research and Innovation Network (UKRRIN), which brings the rail industry and academia together to develop innovative products.
This donation follows the successful proof of concept of the UK's first Hydrogen train, HydroFLEX. The innovative train ran for the first time earlier in the year, thanks to the collaboration between Porterbrook and the University of Birmingham.
As a part of this further committed investment, Porterbrook will become a full UKRRIN industrial partner as well as further developing their active research and innovation partnership with the University of Birmingham.
By using the HST as a research platform the University of Birmingham can accelerate its existing research into alternative power sources suited for trains with more demanding duty cycles, such as long-distance passenger or freight operations.
Stephen McGurk, Chief Commercial Officer at Porterbrook said: "We're delighted to be able to support the University of Birmingham by making available one of our High Speed Trains that has been recently retired from frontline passenger service. We are very excited by some of the ideas that the University is exploring that will reduce emissions and decarbonise the railway. We look forward to some of these coming to market in the very near future."
Alex Burrows, Director, Birmingham Centre for Railway Research and Education, said: "This HST will be invaluable in allowing us to test and develop our technologies on an operating train and in an open environment. It is by having facilities like these that we can really deliver world-leading research and innovation that will transform the railway for operators and customers.  We are hugely grateful to Porterbrook for their commitment to our research and innovation work at BCRRE."
The official handover took place at Long Marston at the Porterbrook sponsored Destination Decarbonisation event, focused on reducing the carbon footprint of the UK railway.
– ENDS –
NOTES TO EDITORS
Media Contacts
Porterbrook Leasing
Rupert Brennan Brown, Head of Communications and Engagement
Rupert@porterbrook.co.uk or +44 (0)7973 950 92
Financial or corporate PR enquiries can also be directed to:
Maitland/AMO
James Isola, Partner
James McFarlane, Partner
jmcfarlane@maitland.co.uk or +44 (0)20 7379 5151
About Porterbrook
Porterbrook Leasing Company Limited ("Porterbrook") is a leading participant in the rail leasing market and has a rolling stock fleet of around 5,000 vehicles on lease or on order, which includes c.4,500 passenger vehicles.
Since privatisation, Porterbrook has invested over £3bn in the UK rail market. The company is looking to invest a further £1bn in Britain's railway over the next five years.
Porterbrook has successfully introduced over 2,500 new vehicles into passenger service. The company continues to invest across its existing fleets to ensure they remain attractive to operators and passengers. Porterbrook also provides ongoing train maintenance services.
In October 2014, the Porterbrook Group of companies was acquired by a consortium of investors including Alberta Investment Management Corporation ("AIMCo"), Allianz Capital Partners ("ACP") on behalf of certain insurance companies of the Allianz Group, EDF Invest and a consortium of Utilities Trust of Australia ("UTA"), The Infrastructure Fund ("TIF") and Royal Bank of Scotland Group Pension Fund ("RBS").