Seventh International Rail Human Factors Rail Conference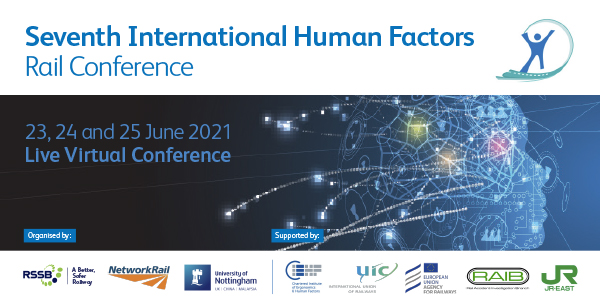 The Seventh International Rail Human Factors conference is taking place  23-25 June 2021. The aim of this conference is to bring together scientists, consultants, regulators, operators, infrastructure managers, manufacturers and suppliers to share rail human factors knowledge. The conference will focus on the discussion of topical issues such as in-cab signalling, traffic management, non-technical skills, the platform-train interface and safety culture.  The last event in 2017 saw 220 delegates from over 25 countries come together to share state of the art Human Factors research.
The conference is organised by  UKRRIN founding members RSSB, Network Rail and the University of Nottingham, and in association with; European Rail Agency (ERA), International Union of Railways (UIC), Chartered Institute of Ergonomics and Human Factors (IEHF), Rail Accident Investigation Branch (RAIB) and East Japan Railway Company (JR East).
Immerse yourself in three days of state-of-the-art human factors conference, bringing together researchers, regulators, operators, infrastructure managers, consultants, manufacturers and suppliers from across the globe.
73 Speakers
19 Key Themes
3 Day, Multi-Stream Programme
Key topics:
Non-technical skills
Human Factors in design
Safety Culture
Workload
Fatigue
 Take a look at the full programme here
Registration £380.00 + VAT per person includes:
Full access to three-day, multi-stream live virtual programme
Build your personalised agenda from the programme
6 week on-demand access post event
Access to conference papers and abstracts via the virtual platform
Meetings and networking with all delegates and speakers in the Meeting Hub
Live virtual and on-demand conference.
Register now!
Submissions and outputs of the conference
The conference proceedings will be published online and on SPARK. SPARK is the online portal for the rail industry to find and share information on rail research and innovation (www.sparkrail.org). Presentations will also be recorded and available on demand for paid attendees.