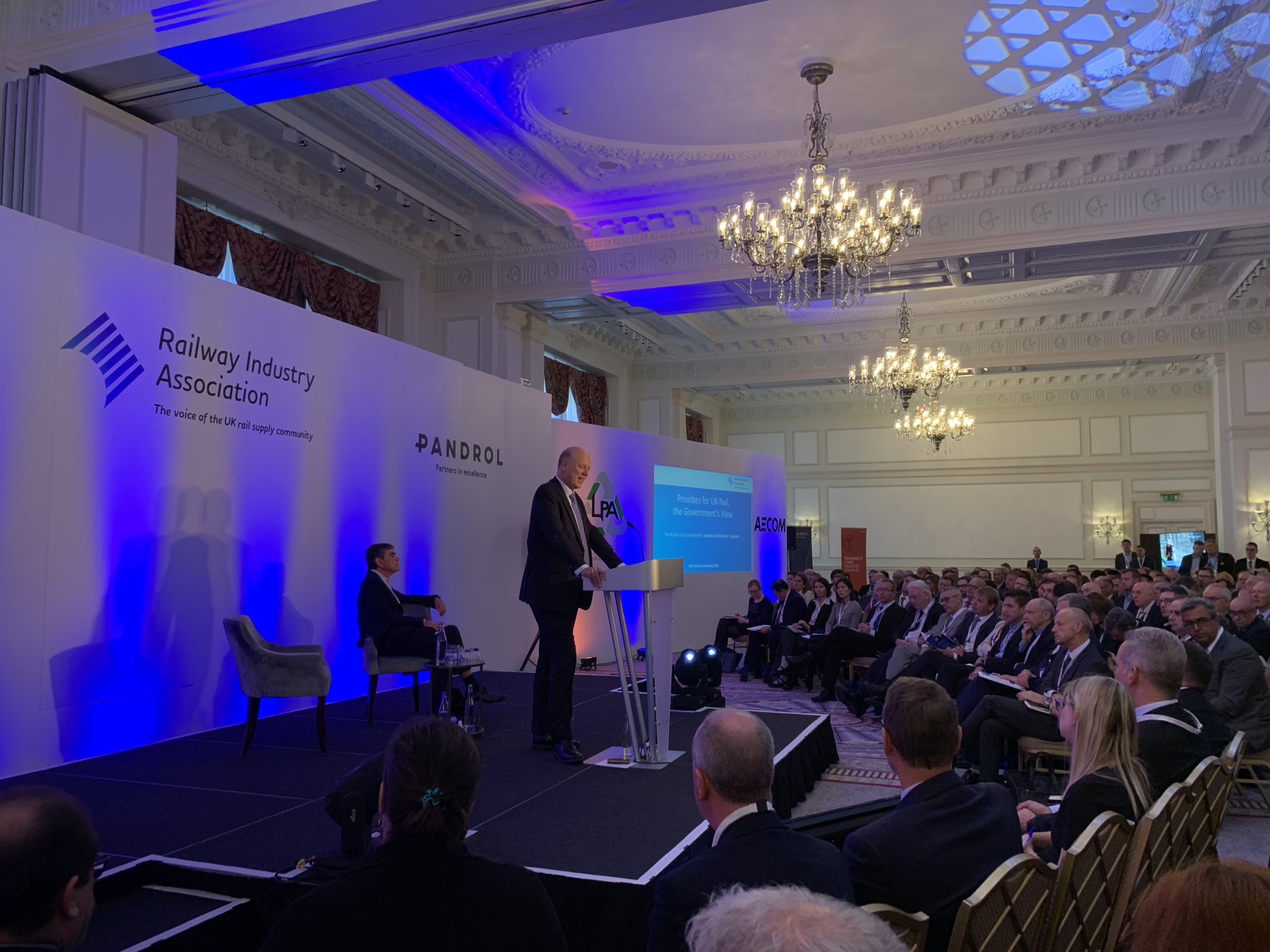 The team at UKRRIN were delighted to have a presence at the RIA Annual Conference on 22 October 2018. Held at the historic Landmark hotel (which has a long and illustrious rail history as one of London's Victorian era railway hotels, The Hotel Great Central which was envisioned by Sir Edward Watkin and created by Sir John Blundell Maple of the furniture company Maples, in 1899). RIA have strong ties to UKRRIN as both a founding member, and a key contributor to our collaborative hub.
The Conference kicked off with a wonderful introduction from RIA Chief Executive Darren Caplan, who gave an inspiring insight into the RIA vision for the future of the Rail sector. This year's Conference focused on the theme of "Growing a sustainable rail industry in uncertain times". With the UK preparing to leave the EU in March 2019, a new Control Period approaching and Government's challenge to decarbonise and digitalise, it is a crucial time for the sector.
We saw several senior players across UK rail taking part, including Transport Secretary Chris Grayling, Shadow Transport Secretary Andy McDonald, Network Rail Chief Executive Andrew Haines, National Infrastructure Commission Chair Sir John Armitt, Crossrail Chairman Sir Terry Morgan, Porterbrook Chief Executive Officer Mary Grant and Transport for the North Chief Executive Barry White. The conference was moderated by Transport Times Chief Executive David Begg.
Transport Secretary Chris Grayling's speech highlighted the need for a 'blueprint for change' led by industry. He stressed the importance of honing the UK rail offering, to help shape a portfolio of services that are internationally recognised, so that Government can show what UK rail is capable of. UKRRIN is keen to support this approach by showcasing the success stories and achievements of industry and academic collaborations in rail.
With an overview of the Rail agenda from both Governmental and Opposition perspectives; debates on minimising boom and bust, how to increase diversity and an exploration of the future technologies and rail sustainability, it was a comprehensive and insightful event. It is clear to see the supplier community has a keen appetite to see where CP6 takes the rail industry and how we can continue to develop a sustainable railway.  This is something we look forward to exploring further at the RIA Technology and Innovation Conference in March 2019.
If you missed the RIA conference, or would like to learn more about how UKRRIN can help you to achieve your goals for CP6 and beyond – why not sign up for our conference? Taking place on the 13th of November in London, it's the perfect opportunity to network and learn more about the forefront of innovation in rail.
To find out more about what happened on the day explore #RIAConf18 on twitter.