About this competition
In order to continue taking innovative approaches to challenges facing today's railways, we need to encourage young people to 'choose rail' so that we generate new thinking and enable knowledge transfer opportunities.
We also however, need to ensure we retain existing talent, by encouraging the development of new skills as needed, and demonstrating how fulfilling and rewarding a career in rail is.
In support of this goal, RSSB (in collaboration with UKRRIN) is launching a new annual competition to celebrate the achievements of young rail professionals and early-career researchers making significant contributions to innovation activities in GB rail.
The recipient of the Young Innovator Award will receive a £1000, a commemorative trophy, and be invited to present their work at the UKRRIN Annual Conference on 21 November.
---

Competition guidelines
This competition is open to young rail professionals and early-career researchers within the first ten years of their rail career. The individual must be working for, or within a company / institution primarily based in the UK.
The winning entry will be selected based on the quality and novelty of work, and the impact on the rail industry (potential or realised).

Download your entry form below: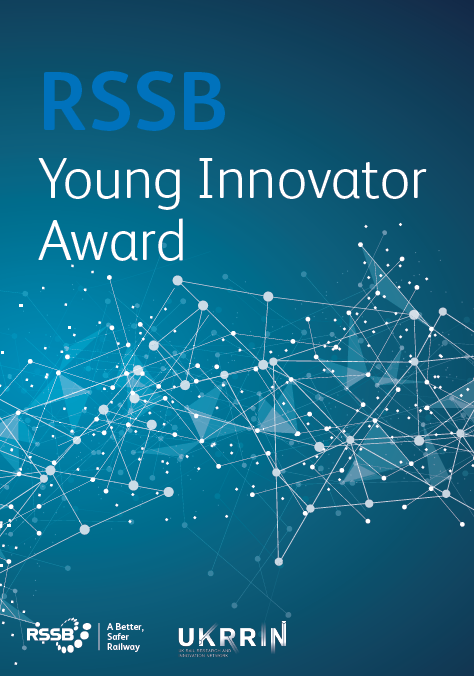 Young Innovator Award 2019 – Award Guidelines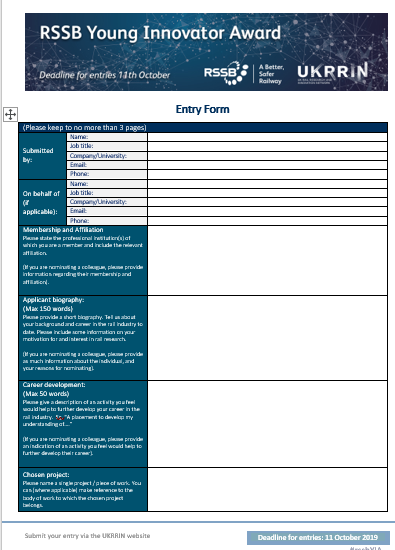 Young Innovator Award 2019 – Entry Form
How to enter
Entrants should complete the award application form, (limited to no more than three pages, and supported if necessary, by one relevant published paper).
Applicants on behalf of others can also be submitted providing it is with their agreement. These applications will be used to short list potential winners by judges who have extensive experience relevant to research and innovation activities.
Technical principles, showing why the work has the potential to make a significant difference, should be provided by extensive technical detail is not advised.
Applications must be supported by a Senior Manager of Professor in the form of a supporting letter with a brief explanation of how the work has either has, or could, make a difference. Where appropriate, this should be supplemented by a reference to published work or specific activities.
---
Key Dates
25 October 2019: Deadline for entries
11 November 2019: Winner announced
21 November 2019: UKRRIN Annual Conference
Submit your entry
If you have any queries, please contact us.
#rssbYIA