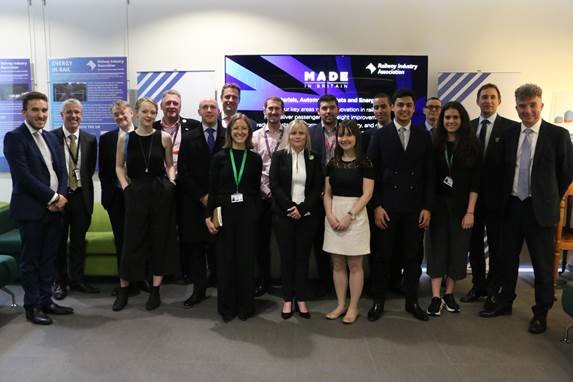 The Railway Industry Association (RIA) has launched an exhibition today in the lobby of the Department for Transport (DfT), which will be in place over Rail Week (7 – 13 October 2019).
The Exhibition explores innovation in the industry, looking at how rail companies are developing new technologies to improve the UK's railways. It focuses on the theme of 'M.A.D.E in Britain', where M.A.D.E stands for Materials, Automation, Data and Energy – key areas where the UK could develop a competitive advantage through innovation and the skills we need to deliver them.
The Exhibition was launched by RIA Technical Director David Clarke, Young Rail Professionals London and South East Chair Laura Reardon, and a number of RIA member contributors. Over 200 visitors and 1,700 DfT employees pass through the DfT reception each day, meaning almost 2,000 people will see the exhibition each day.
Darren Caplan, Chief Executive of the Railway Industry Association (RIA), said: "Rail doesn't always get the best publicity these days, but we hope this exhibition brings to life the positive side of rail and its contribution to UK innovation and the economy generally. Railway suppliers are regularly bringing new products and services onto our rail network, delivering passenger and freight improvements, reducing costs, improving project delivery, and developing a competitive advantage for the UK rail industry internationally.
"It really is fantastic to be able to put these innovations on display in the heart of the DfT over Rail Week, and I would like to thank the Department, Young Rail Professionals and all our fantastic RIA member contributors, for making this exhibition possible. I hope the DfT Rail Team, including the Ministers,  all enjoy their tours round the exhibition!"
Notes
The exhibition contains information on:
The size and value of the sector, including content from Hitachi Rail;
Materials: How composites are used in platforms and rolling stock interiors, with videos and samples from Dura Composites and TRB Lightweight Structures;
Automation: How drones, design tools, robotic platforms, augmented and virtual reality can be used in rail, with content from AmeyVTOL, Atkins and Bombardier;
Data: How intelligent data use can improve rolling stock, infrastructure and station design, scheduling, disruption management, and track maintenance, with content by Altran, Movement Strategies, telent and Advanced Transport & Infrastructure National College;
Energy: How the industry can decarbonise the network, with content from Schneider Electric, Porterbrook and Alstom;
And skills, including how Rail Week is inspiring the next generation of rail professionals.
About Rail Week: Rail Week (7 – 13 October 2019) is organised by Young Rail Professionals and is a pan-industry collaborative effort aimed at bridging the rail sector's looming skills gap and inspiring the next generation of rail professionals. The first Rail Week in 2016 saw over 70 companies and organisations coming together and delivering over 150 events across the country. Rail Week 2017 achieved a breakthrough, reaching 3000 young people and their parents and teachers.  The dedicated week of activity aims to address the skills shortage in rail-related roles and inspire a generation of young people through a series of events, visits and talks. The events for people at schools, colleges and universities aim to encourage them to consider careers in this great industry. Rail Week will also include a widespread schools outreach programme, facilitating ambassadors to get into the classroom and deliver inspirational activities designed for Rail Week.
About RIA: The Railway Industry Association (RIA) is the voice of the UK rail supply community. We help to grow a sustainable, high-performing, railway supply industry, and to export UK rail expertise and products. We promote and represent our members' interests to policy makers, clients and other stakeholders in the UK and overseas. RIA has 290+ companies in membership in a sector that contributes £36 billion in economic growth and £11 billion in tax revenue each year, as well as employing 600,000 people—more than the workforce of Birmingham. It is also a growing industry with the number of rail journeys expected to double over the next 25 years and freight set to grow significantly too. RIA's membership is active across the whole of railway supply, covering a diverse range of products and services and including both multi-national companies and SMEs (60% by number). RIA works to promote the importance of the rail system to UK plc, to help export UK expertise around the globe and to share best practice and innovation across the industry. riagb.org.uk
About Young Rail Professionals: Young Rail Professionals is a not-for-profit membership association created by and led by young people working in a variety of rail-related roles. Run by volunteers, YRP seeks to support other young people in the early stages of their careers, and promote the industry to young people in education. Young Rail Professionals (YRP) was founded in 2009 to promote the railway industry as a great place to work and to inspire and develop the next generation of railway talent. YRP brings together people from all aspects of the industry, whether they are involved in engineering, asset management, train operations, strategic planning, maintenance, franchising, regulation, marketing or human relations. YRP is open to any young rail professional. YRP delivers Networking and Development opportunities including technical seminars, presentations, site visits and socials. They also collaborate closely with several other professional institutions to regularly run joint events and initiatives and run an award-winning Rail Ambassador programme, providing opportunities for our members to visit schools, colleges and universities to attract the next generation into this dynamic industry. YRP delivers these activities nationwide through seven regional committees, led by a national executive. Their committees are led entirely by young volunteers from within the rail industry.