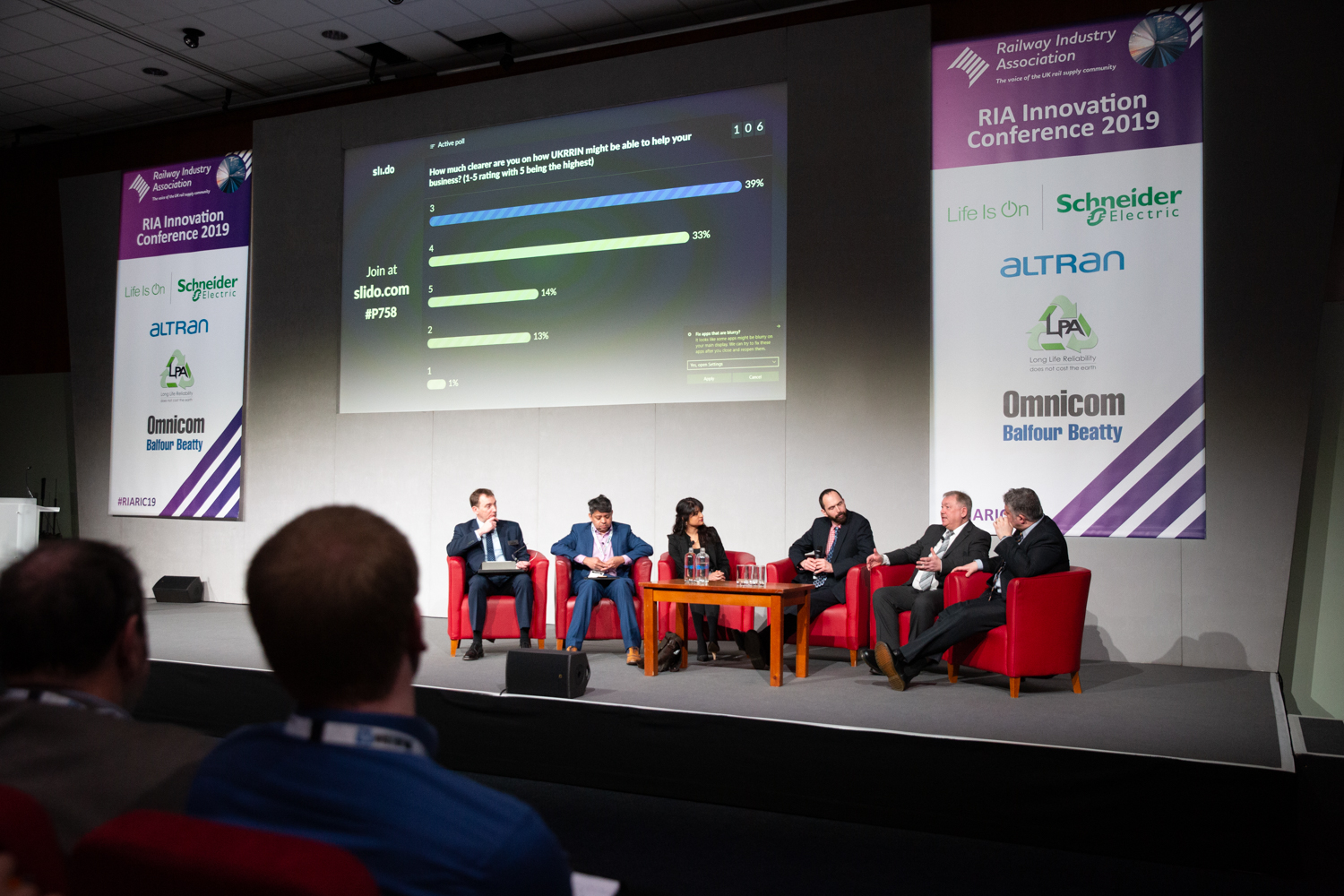 The 11th edition of the RIA Innovation Conference took place at the Telford International Conference Centre On the 19th and 20th of March 2019. Centred around the theme ' M. A. D. E. in Britain' the event built on RIA's focus on 'Growing rail in uncertain times', M.A.D.E stands for Materials, Automation, Data and Energy all key areas where the UK has world-leading capabilities.
RIA is a founding member of UKRRIN and the association has a key role in strengthening the network's relationship with the UK supply chain. We were delighted to take part in the event and at the number of references its participants made to UKRRIN and the positive experiences they have had in collaborating with the academic community.
We heard from key industry figures on a variety of industry challenges and innovative projects, from the latest thinking around the decarbonisation challenge, to collaborative approaches Altran has taken in the aerospace sector to tackle software development costs. We also received insight into the HS2 project from Chief Executive Mark Thurston who said of the project "(HS2) will transform where people work and how they live their lives… We haven't built a new railway north of London for over a hundred years, and if we're going to build a new one then it must be a fast one."
Clive Roberts, Director of the Birmingham Centre for Railway and Education, and Lead for the UKRRIN Centre of Excellence in Digital Systems gave an insightful update on activities since UKRRIN's doors officially opened for business just over a year ago. In the ensuing panel discussion, we heard from a mix of founding and new UKRRIN partners including; Sreya Rao Product Manager Siemens Mobility Ltd, Stirling Kimkeran Head of Omnicom Balfour Beatty, Stephen Ingleton Engineering Director Unipart Rail and David Fletcher Professor of Railway Engineering Sheffield University. Our panellists discussed key issues such as; the value they see in UKRRIN membership, their aspirations for delivery of innovation through the network and their thoughts on why others should engage with the network.
With a busy session on both days, our breakout session 'Setting the right course: How can UKRRIN help you find a route to market?' was well attended. Delegates were offered the opportunity to evaluate some of the most pressing issues products (and the companies making them) face when attempting to pass the 'valley of death' and make it successfully to market. Darren Caplan, Chief Executive, Railway Industry Association said of the network "UKRRIN is vital in developing how the rail industry innovates and in bringing new ideas from conception right through to market. I'd urge companies, of all sizes and in all areas, to get involved and see how UKRRIN can help them innovate".
To find out more about other events with a UKRRIN presence in your area click here. The next event on our calendar is the UKRRIN/REF lecture which will take place at the Centre of Excellence in Digital Systems (CEDS) at the Birmingham Centre for Railway Research & Education (BCRRE) on the 9th of April 2019. Register your interest here.