The UK Rail Research and Innovation Network (UKRRIN) is set to expand its core capabilities with a new immersive Centre of Excellence focused on Inclusive Passenger Experience (IPEC).
The UKRRIN IPEC will provide a physical space for the development and testing of innovations across four thematic areas of: Inclusive design, passenger digital connectivity, passenger experience performance metrics and future passenger preferences and demand. It will also allow individuals with the lived experience to be a part of the design process for new ideas.
This builds on the outputs of a workshop held last November to develop an understanding of industry requirements in these areas, and to identify the facilities and skills needed to ensure the services provided for passengers are inclusive. Since then University of Cambridge, University of Birmingham, Hitachi Rail Ltd and RSSB have been working together further shape the Centre proposal.
Plans for the new Centre were shared with rail industry stakeholders during a webinar held 31 July. Hosted by founding members RSSB, the webinar shared a high-level overview of the new Centre and its facilities.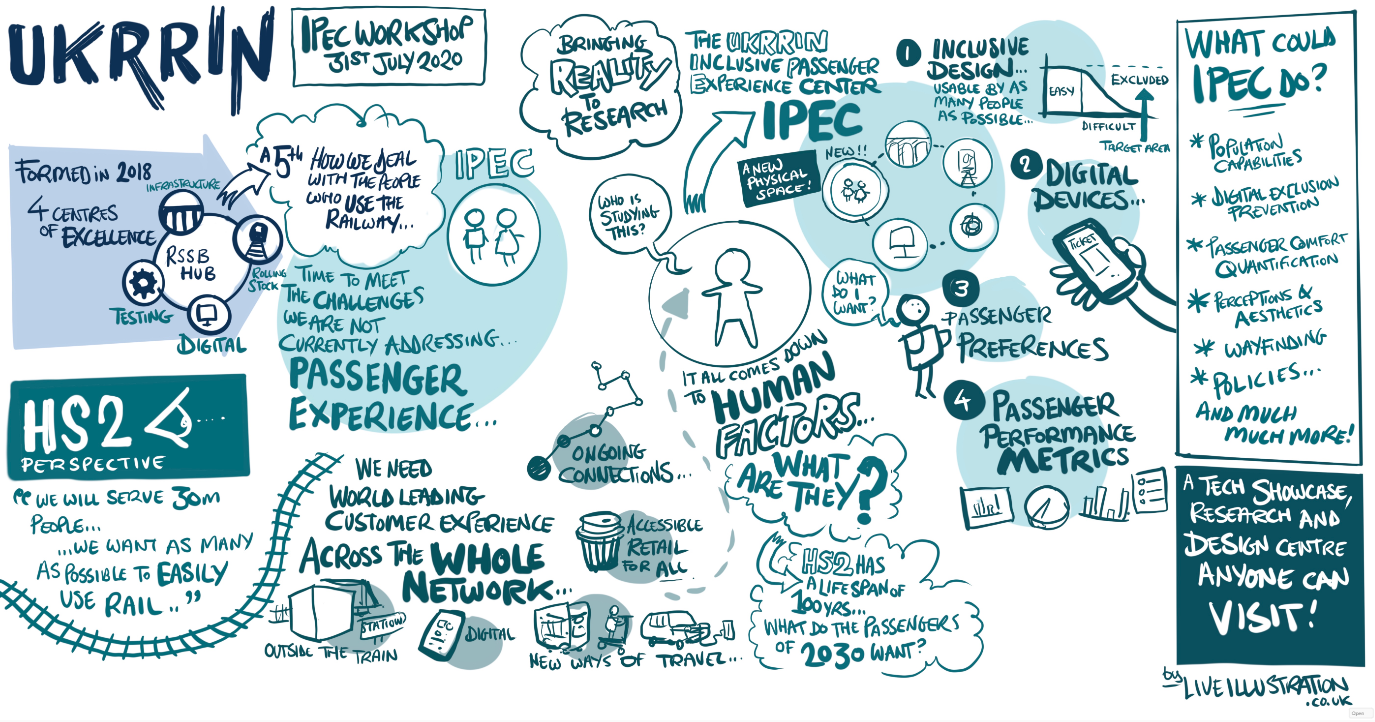 Howard Mitchell, Head of Innovation, HS2 gave a keynote address on the value of this Centre from an industry perspective. He said:
"People are at the heart of the design process for HS2. We acknowledge diversity and difference and aim to build a railway that is useful and accessible for people with a diverse range of abilities. The construction of HS2 provides an opportunity to embed inclusive design practices in everything that we do, creating a real step-change in passenger experience"
Rob Morland, Senior Associate, First Class Partnerships said:
"The UKRRIN IPEC gives the UK an opportunity to take a lead in putting rail passengers first in designing the future railway. By thinking inclusively about the whole travel experience we can open up the railway to more people, including the elderly and those who suffer impairments, whatever form these take"
UKRRIN is a network of a Centres working in partnership with industry to revolutionise innovation in rail. The network has been developed around four key themes and has been growing steadily since 2018. Inclusive passenger experience is of relevance to themes of the existing UKRRIN Centres but is not the primary focus for any of them.
Prof Clive Roberts Head of School of Engineering, and Director of BCRRE, University of Birmingham said:
"Today's event has been a pivotal step in the development of the UKRRIN Centre of Excellence for Passenger Experience. We are delighted to be working in partnership with industry on a bespoke space for passenger-focused innovation. The enhancement of UKRRIN capability in this area will fill a gap in the innovation landscape and provide a much-needed space for more collaborative activity. We now need the full backing of our industry partners to take the Centre to its next stage of development"
Next Steps
Use the links below to access workshop materials, and share your thoughts on the UKRRIN IPEC vision.
Watch the webinar recording and access the presentations:
Webinar recording now available on the UKRRIN YouTube channel.
Presentations available on SPARK.
Share your feedback on the vision:
Click here to add post it notes (via the MURAL collaborative tool) with your thoughts on the current state of inclusive passenger experience, the challengers, enablers and what the future IPEC will have done for you.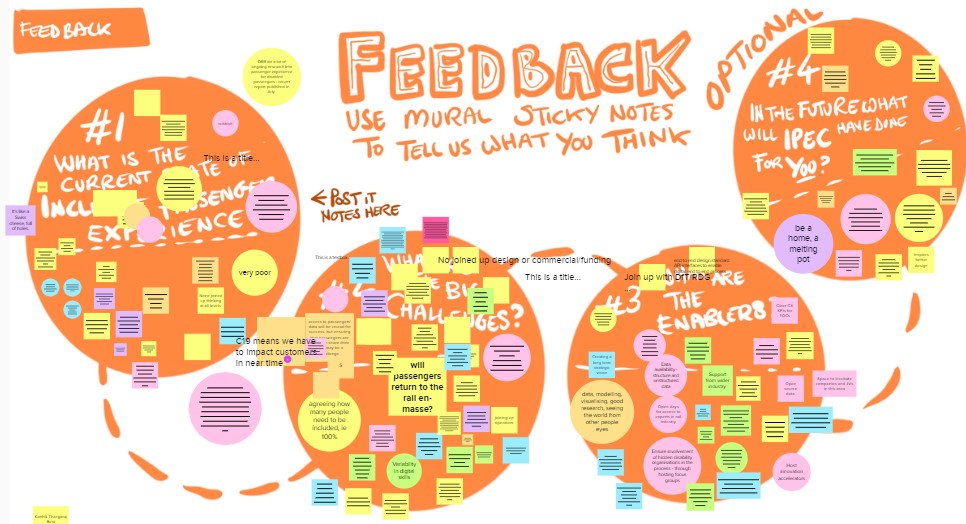 Get in Touch:
Organisations that would like to be involved and potentially support the development of the Centre are invited to get in touch: Clive Roberts: c.roberts.20@bham.ac.uk or ukrrin@rssb.co.uk