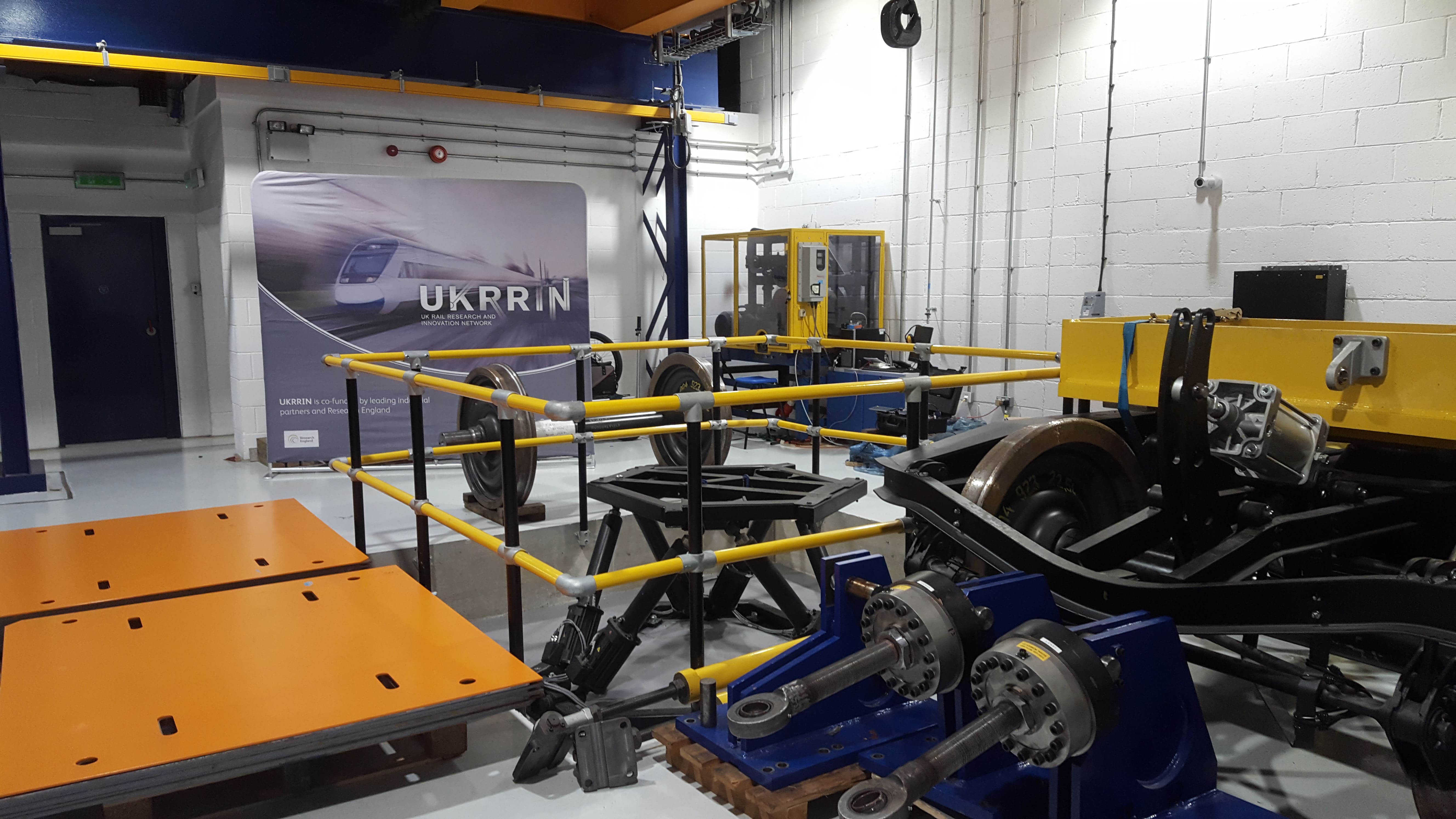 On Tuesday 29th January the first in a series of lectures, organised by UKRRIN and Railway Engineers Forum (REF) took place at the Institute of Railway Research (IRR) based at Huddersfield University.
Professor Simon Iwnicki Director of the Institute of Railway Research said of the day "I was delighted that we had over 100 delegates at the UKRRIN Open Day for the Centre of Excellence in Rolling Stock at the University of Huddersfield. The audience of experts from industry and academia heard case studies from the UKRRIN team from Huddersfield, Newcastle and Loughborough Universities on their collaborative research in several areas including Risk modelling, Braking and wheel motors."
The innovative research presentations from the key CERS universities Huddersfield, Newcastle and Loughborough included:
Zero slip linear induction motor (Z_Lim): A novel braking system for optimum capacity, Dr Roberto Palacin, Newcastle University
LABRADOR: Train Braking System Simulation Tool, Dr Hamid Alterbeh, Huddersfield University
The SET wheel motor project, Dr Peter Hubbard, Loughborough University
A KPI for High-Speed Red Aspect Approaches, Professor Coen Van Gulijk, Huddersfield University
Recent Developments on Pantograph-Catenary Interaction to Support Rail Industry, Professor Joao Pombo, Huddersfield University
These engaging and innovative presentations were followed by a comprehensive tour of the IRR Facilities, including their world-class test rig Huddersfield Adhesion & Rolling contact Laboratory Dynamics rig (HAROLD) which provides an advanced dynamic testing capability for the trialling and approvals of vehicle and track systems.
We also enjoyed keynote presentations from industrial leaders Jo Hensher, Bid Director HS2 Rolling Stock, Siemens Mobility who spoke on 'The Rolling Stock of the Future' and Professor George Bearfield, Health and Safety Director, Rock Rail who spoke 'Rolling Stock Safety Analytics'. Professor Simon Iwnicki Director of the Institute of Railway Research said "The inspiring keynote speeches from Jo Hensher (HS2 bid director for Siemens) and George Bearfield (Health and Safety Director for Rock Rail) stimulated enthusiastic discussion and gave the audience lots of food for thought! We were also pleased to be able to show delegates our world class laboratory facilities at the Institute of Railway Research including the UK's only full-size railway roller rig."
The CERS aims to meet the current and future demands of the GB rail industry for research and innovation to support the next generation of railway vehicles. The Centre will link with other centres in the UKRRIN Network to provide a 'one stop shop' for all rolling stock development.
The work of the CERS supports the 'Four Cs' of the Rail Technical Strategy and cover rolling stock of all types including passenger, high speed, freight, Light Rail, and Metro. The research will lead to innovations that will reduce cost and carbon emissions. The Centre also supports research in several key areas of the RSG 'Fast Track to the Future' vision.
The next UKRRIN/REF lecture will take place at the Centre of Excellence in Digital Systems (CEDS) at the Birmingham Centre for Railway Research & Education (BCRRE) on the 9th of April 2019. Register your interest here.